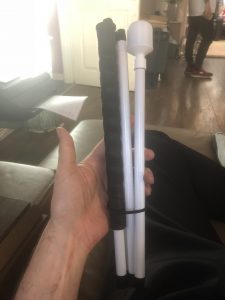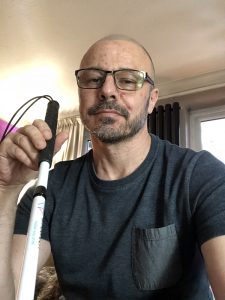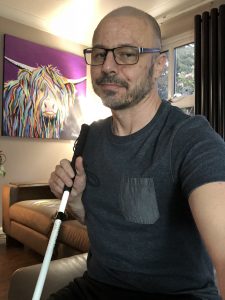 Fear of The White Cane
Perhaps the worst fear to me so far, in this sight loss journey (I'm only two months in) is The White Cane.  To be perfectly honest, I didn't really think about it a great deal, until I spoke to my Rehabilitation Officer over the telephone last week.  When I put the telephone down, I tried to research it as much as I could.  Looking for video's, photographs, comments made, and white cane users perspectives.
Today, my rehabilitation officer came to visit me at home, and we had a long discussion about many aspects of living with visual impairement.  He then suddenly said, we have skirted around the issue for a while now, so, I'm just going to show you it, and talk a little bit about it.  He got a white cane out and I just instantly froze.
I was shown how to unfold and fold the cane, how to hold it, and discussed the benefits of using it.  Many thoughts ran through my mind as we were speaking:
Do I really need a white cane?  Is my vision that bad? I do have an element of residual vision, I'm not blind – If I ever use a white cane, won't people therefore think I am a fraud, pretending to be blind, trying to get what I can from the system?  If people see me using it walking down the street, and then sit down in a restaurant, or go to the supermarket – won't it be alike a comedy sketch on TV.  What will my friends and family say?
Well, as we worked through some of those questions, the majority of people using a white cane do have some residual vision , some more than others, and only around 4% actually have NOP vision at all. So, why do people who can "see" need a white cane?
My mind was working overtime, and as we continued the conversation, the benefits came thick and fast, when applying hot to my visual situation.  At the moment, when I walk, especially outside, in the daytime, If  I am walking with people, I am forever bumping into them, or lamp posts, or other objects.  If in someone else company, visually I can only concentrate on one thing – the person or people I am with, or whats right in front, or below me, and whichever it is I choose to concentrate on, the other two present me with hazards and problems.
With a white cane, I am learning that it provides you with a great deal of feedback.  The tip of the cane is placed on the floor, and you simply move it from side to side as you walk. On the very comfortable handle, there is a flat side that you place your finger onto.  As the cane glides from side to side, you "feel" the texture of whatever the tip is touching.  So, on my wooden floor, it I haver a rug in front of the fire.  As you sweep across, the cane feels totally different as it finds the rug, and you fee it move from the flat flooring, up a notch onto the rug and then across the rug.
If walking on the path, the cane touches )and you feel) lamp posts, kerbs and all other obstacles.  The cane needs to be the correct length, as you need a good two strides worth in front of you. This then gives you the time to feel the obstacle, and you can then navigate around it, before you actually walk into, or trip over it.  The cane feels what I cannot see.
I dont see people, or objects in my periphery at all, so, the sweeping motion of the cane finds those things in. my blind spots, making me aware that something is there.
I do not feel at all comfortable anywhere outside these days unless I am with someone.  When I am with someone, I either hold onto their arm, or their shoulder, or a sleeve etc, and kind of "follow" them. Doing this helps me to avoid the obstacles, as they are not going to walk into them, so, neither, in theory am I.
The number of times that I have tripped down a curb, walked into someone, or a floor sign, or a cone etc is too numerous to mention.  When this does happen, If people see , then I laugh it off, say or agree with he person who makes a remark, how gormless I am, or, Iv'e had one too many etc.  Occasionally, It has been met with aggression when I have walked into someone by accident, and they have reacted aggressively towards me.
Then, through talking with my rehabilitation officer. I realised that, of course people will laugh at me, or even act aggressively towards me when I walk into them.  They DON'T KNOW that I have sight problems…How would they?  If I used my white cane, people will be alerted to the fact I have sight problems, and will (hopefully) be much more forgiving and helpful.
The vast majority of white cane users have some residual vision
I didn't know that the majority of white cane users could still see some things, until now.  I thought they were totally blind.
A friend of mine made a comment on my facebook page a short while ago, when I plucked up the courage to mention the sight problems I was having with using visual aids, and feeling embarrassed etc.  She said… If I had difficulty walking, I would use a walking stick or a wheelchair.  If I couldn't hear , I would wear a hearing aid and wouldn't think twice about it, so, why if I cant see, would this be any different.  And, you know what, she was absolutely right.  So, if I need a white cane to help me "see" then  why would I choose not to use it?
With regards to other people laughing at me, making comments or being generally abusive towards me when using a white cane – this again is no different to people making comments or being abusive in any other situation. There are Good and there are Bad people in all walks of life, and if the person is a bad person, they would remark no matter what, white cane or not.
I cant simply go out there with my white cane and face the World, without training to use it properly.  Without the training, I will be a danger to myself and possibly others too.   So, over the course of the next few weeks/months I will be trained in the correct ways to do things whilst using a white cane.  The rehabilitation officer will go out walking with me, and on. buses and trains, to cafes etc, to get me used to it and comfortable with it, as well as being confident with it. I am looking forward to having the confidence to be out independently once again, but know this will not be plain sailing, and not without hurdles to overcome.
As I type this post, I do not feel confident with the cane, nor do I feel excited at the prospect of using it – BUT, the reasons for this are:
My own embarrassment, people thinking I am being a fraud  people making fun of me and looking stupid.
However, the idea of it giving me back a lot of my independance,  giving me some freedom of movement and having the confidence to go out again is very exciting.
In conclusion,
I think I need to gain acceptance of being visually impaired myself first, then learn to be confident in telling people, and using all of the aids available to me (Of which there are many) and loosing the fear of "what if" and what will people say or think.
My sight loss is a part of me now, BUT, it doesn't singularly define who or what I am.
I will fill you in on my progress and thoughts over the next few months on this topic, as I am sure they will change – frequently!