Living ( and loving ) My Best Life – PART ONE
With My AMAZING 2020 Hero, My Enabler & Knight In Black Shiny Armour
Spencer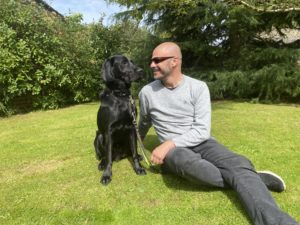 In 2020, My relatively recent Blind life was about to change – Amazingly so. All because of my Guide Dog match.
Guide Dogs UK, are the most wonderful charity, with the most amazing Staff and Volunteers. They work tirelessly to enable those with sight loss to live their lives as they choose.
Little did I know just how much my life would change for the better with Guide Dog, Spencer by my side.  I can honestly say that I am currently living, and loving my best blind life – its AMAZING!
Where did it all begin?
At a very low point, back in January 2019, trying to come to terms with my worsening sight loss. Alternating between feelings of depression, isolation, feeling sorry for myself, not wanting to be a part of this World anymore, and the occasional rare, more positive day.  I made a telephone call to Guide Dogs UK, and spoke to a lady called Tegan.
I had thought about this every so often over the last year, reading as much as I could find about Guide Dogs. Watching YouTube video's, lurking in the background on various sight loss forums etc.  However, always talking myself out of making contact, for various reasons, such as:
You must be totally blind to have a guide dog. At this point I was still only partially sighted. (NOT TRUE – only about 5% of "blind" people are totally blind)
My need isn't as great as someone else's, I can still see a little bit. (NOT TRUE – everyone with sight loss has a need of some sort )
I own pet dogs – you cant have a guide dog if you have pet dogs. ( NOT TRUE – every case will be assessed on its own merits )
Making that call
HOWEVER – this one particular day, I plucked up the courage to call.  Secretly hoping it would be an answer machine.
However, this very lovely, softly spoken, kind lady answered the phone, and asked how she could help.  I nervously explained my situation, that I was struggling with my sight loss, which was getting progressively worse, I used a white cane, but hated it.  That I heard of guide dogs before, but also know that I'm likely not "blind enough" to be eligible even be considered for a guide dog.
Tegan said to me, firstly what you are feeling and experiencing is "normal" Terry.  There is no such thing as "not being blind enough" for a guide dog.  Lots of people who have guide dogs have some element of residual sight, so Let us decide if a guide dog would be right for you and your situation.  A guide dog isnt for everyone, but thats not based purely on level of vision, there are many factors.  She explained about alternative services that guide dogs provide should it be decided that a guide dog wouldn't be the best for for me currently.
Tegan explained a little about guide dogs, what they can do, and what they cant.  Describing a few tasks that the dogs do for their owners, as well as the owners responsibility to the dog.   It sounded wonderful, but I was still full of doubt, about my worthiness.  After a good long chat, at the end of which,  she said to me that we could take this to the next level, and have someone from Guide Dogs come out to visit me. To chat in more detail about Guide Dogs, and my current situation.  If not then they would also talk about other services which I may find helpful.  OR, I could put the phone down and have a think about things, and call back again another time to arrange a meeting once I had time to think.
I knew, that if I put the phone down then, theres would be call back from me.  It had taken me so long to pluck up the courage to call, and to admit to someone that I felt like I needed some support. That I couldn't currently cope any longer, I guess it was like a little cry for help I guess. I said, this all sounds amazing, thank you so much for taking this time to chat with me, and if possible, I would love to take it to the first stage, and have someone come to see me, if that ok?
The next step in changing my World
Weeks went by without hearing anything. I thought that I had been forgotten about.  However, I would not ring back, as I didnt want to appear a pest. My head told me, that they have decided after all that I cant be considered for a guide dog. (its strange what goes through your mind at times)
Then, out of the blue, I received a call from a lady called Helen. She introduced herself, telling me that she was a Mobility Specialist from Guide Dogs, and wanted to come have a chat to me following on from my enquiry about a guide dog.  We chatted for a while and I felt an immediate connection with Helen, I don't know what it was, but we just seemed to click.  She had a great sense of humour, and for the first time in a while, I found myself smiling as I spoke to her about the worst thing to ever happen to me – sight loss!  I had almost forgotten how it felt to smile.  We made arrangements for Helen to come to my house a couple of weeks later.
I was extremely excited, as well as nervous.  I wasn't too sure exactly what to expect. What if she didn't like me? What if she felt my pet dogs were not suitable to be homed with a guide dog. They are HUGE, cheeky Irish Wolfhounds after all, with a mindset of, my human can tell me what to do, but I'll do as I please anyway.  Tell me to sit, and Ill stand there, looking blankly at you!  Tell me to lie down, and Ill come hook  my head under your elbow, demanding a cuddle.
What IF she was to confirm my worst fear, I really am not blind enough?  What then? Is this the end of the line for my life? I'm already a burden to everyone else around me, especially my partner, Dean.  I was determined not to be a burden to anyone else, such as a carer, or a sighted guide.  I wanted to avoid being around humans as much as possible, as I felt as though I didn't belong in this predominantly sighted World anymore.
The appointment nerves
The day before may appointment.  I spent the entire day cleaning the house, every single room!  She will want to look round the house and garden surely? Dean said to me, Terry, she is coming to talk to you, about you, and what help they can offer. There is no interest in how clean your bedroom is, or living room, or downstairs loo, or dishes in the sink!  However, I was having non off it, and the house was spotless.  Dean spend hours and hours in the garden making sure that was all acceptable, as well as being on indoor cleaning duties also.  I didnt sleep hardly at all that evening.
I received a text message from Helen, saying she was running 20 minutes late… what a relief, that gave me another 20 minutes to check my clothes again. Did I look presentable? It also gave me one last opportunity to beg our two pet dogs to PLEASE be on your best behaviour!